Schinizer/kshootmaniasdvx
语言: Shell
git: https://github.com/Schinizer/kshootmaniasdvx
SDVX Charts for KShootMania
KShootMania的SDVX图表
SDVX Song软件包适用于KShootMania。
这些图表紧跟官方sdvx图表,以模仿原始体验。
SDVX和SDVX II歌曲包
它们已经完成并可以播放。由于github无法支持1GB以上的存储库,SDVX和SDVX II歌曲将从存储库中删除并存档。歌曲包可以在这里找到。
SDVX III歌曲套餐
如何设置播放
清空"kshootmania \ songs"目录
将存储库直接克隆到"kshootmania \ songs"
可选将目录恢复为原始状态(此存储库配置为忽略所有其他歌曲)
启动KShootMania
请享用。
存储库以这种方式配置,以便于编辑和播放图表。
视频演练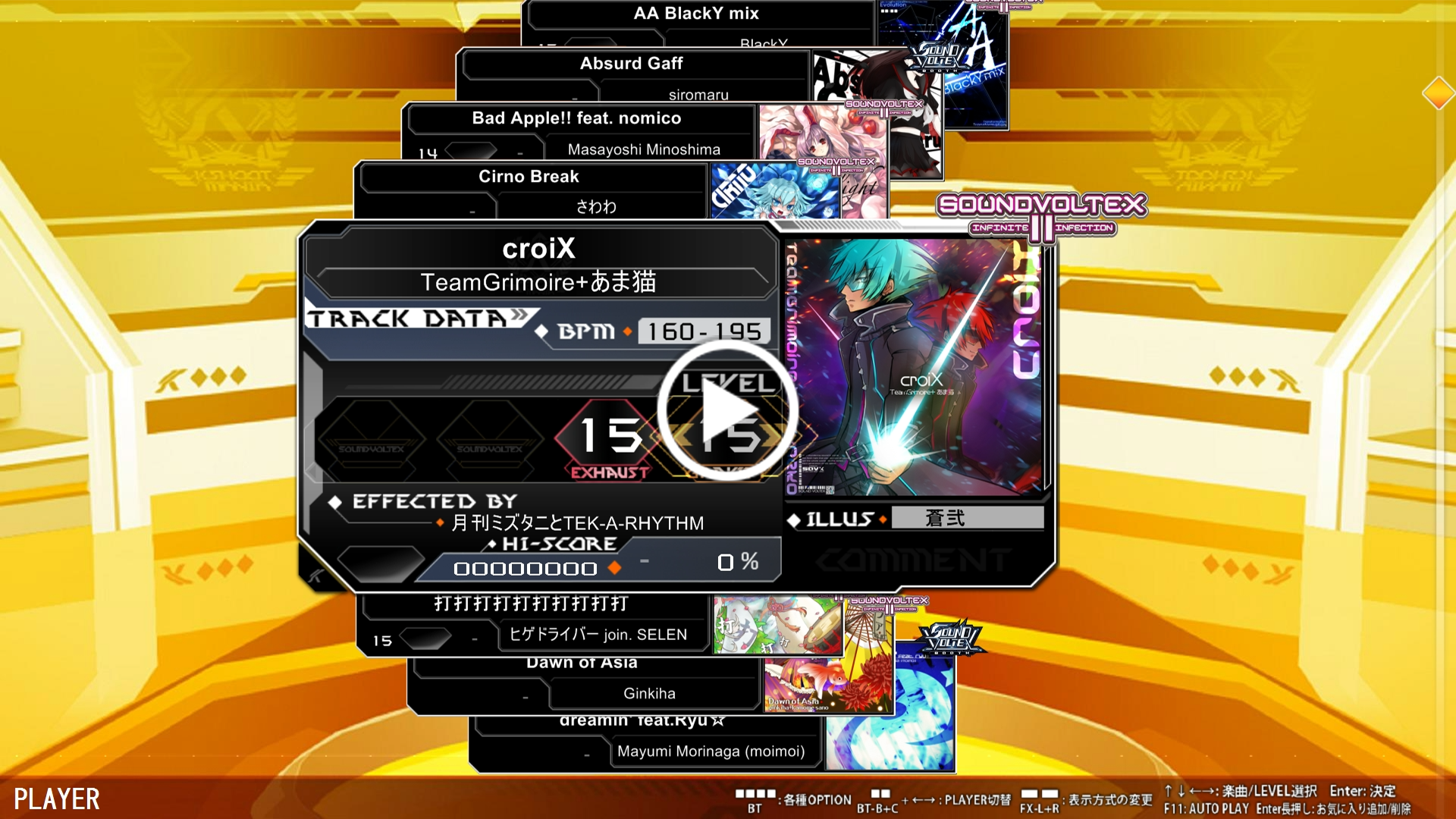 有助于这个项目(在编辑下)
该项目已完成所有SDVX和SDVX II图表。它们已存档并发布。 这个回购现在只接受SDVX III图表。
处理图表
分叉此存储库并创建一个新分支
导航至KShootMania SDVX歌曲状态以检查协作者状态
在电子表格中查找要处理的歌曲 如果您正在处理它,请将相关单元格设置为"进行中" 为防止冲突,请仅处理未标记为"进行中"的歌曲
导航到\ incompleteChart并找到您正在处理的歌曲文件夹
将整个文件夹剪切并粘贴到\ sdvx中
处理歌曲
加工夹克
处理歌曲预览
图表打样
加工里的效果
玩测试
一切顺利后,保存图表并将更改提交到fork。
随意处理其他歌曲。 (从步骤4开始重复)
准备好后,提出拉动请求!
下载和处理歌曲
歌曲从Youtube下载并处理。这里的目标是保持最佳体验的质量。
循序渐进的指南
导航到SDVX谱面保管所,找到您正在处理的歌曲
从链接下载FX曲目和No FX曲目(Youtube) 如果您没有下载器,可以尝试使用Clip Converter或4k Video Downloader。 要防止更多重新编码,请将声音下载为.aac或.m4a,然后处理它们。 免责声明:我对这两种产品都不感兴趣。随意使用它们
修剪曲目,如果需要,将它们删除,并将它们保存为.ogg格式(Repo只需要.ogg)
重命名FX曲目<difficulty> .ogg
新手图表nov.ogg
高级图表adv.ogg
排气图exh.ogg
Infininite图表inf.ogg
重力图表grv.ogg
重命名No FX轨道nofx.ogg
将曲目放入\ sdvx \ <正在处理的歌曲>
它完成了。 (图表也映射到歌曲文件名)
处理歌曲夹克
寻找歌曲夹克主要是谷歌图像搜索任务,没有一个真正的方法来获得它们。
以下是一些您可以找到图像的地方:
| 雷米维基 | Google图片搜索 | SD V X.不饿 |
| --- | --- | --- |
| | | |
| Click the image for high res version | Search by Image works well | Use this if you can't find high res jackets |
| Not always available | Not always available | Always available |
方针
检查是否有夹克(我放了一些)
始终使用您可以找到的最高版本。
请注意,此存储库仅接受.png和.jpg文件。
为方便起见,所有图表都映射到jacket.png 如果你的夹克是.png并且所有难度都是相同的艺术,那么方便。 (只需将夹克命名为jacket jacket.png)
如果歌曲针对不同的难度有不同的夹克,请将它们恰当地命名。 新手图表nov_jacket。<extension> 高级图表adv_jacket。<extension> 排气图exh_jacket。<extension> Infinite Chart inf_jacket。<extension> 重力图grv_jacket。<extension> 您必须编辑相关图表的元数据以适应这一点
处理歌曲预览
找到歌曲的合唱时间并将其添加到歌曲预览中。 没有必要使用SDVX进行1:1的歌曲预览。找到有效的方法并使用它。
歌曲预览时间提示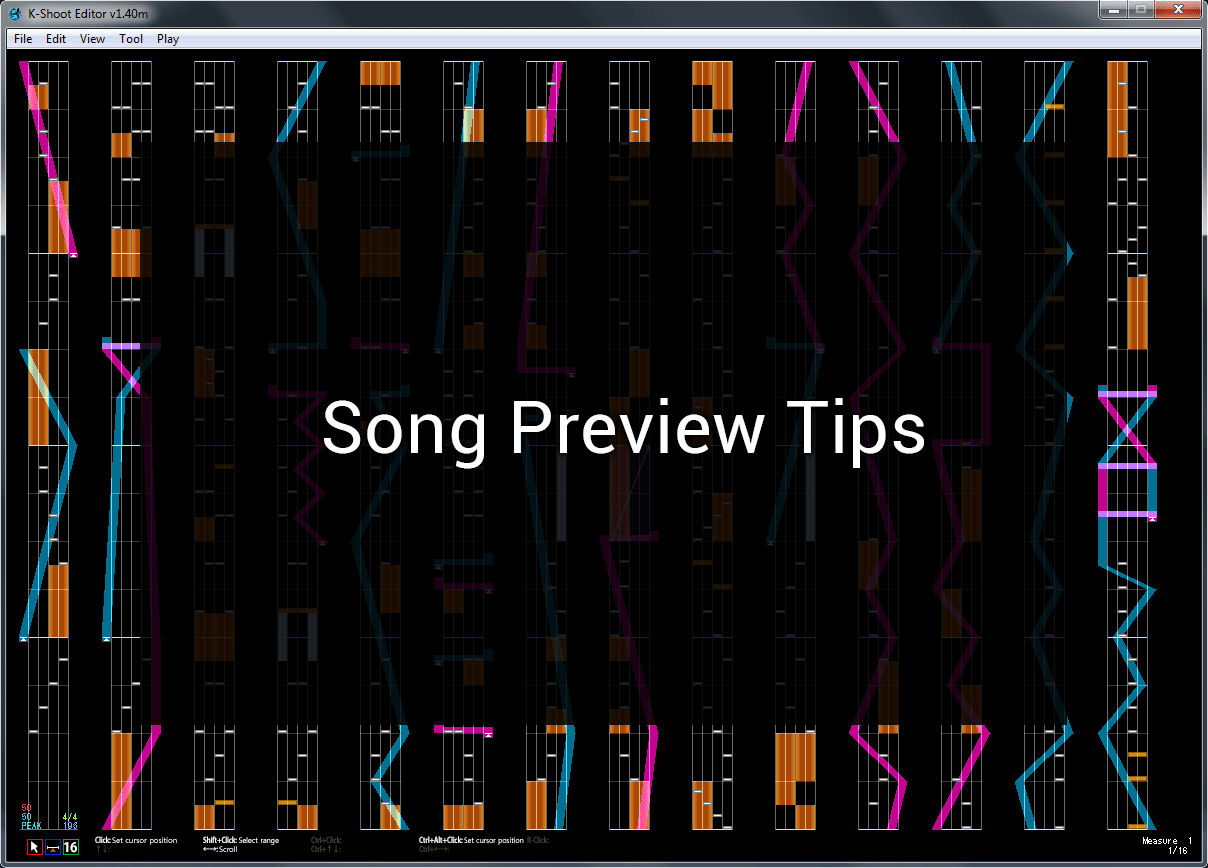 图表打样
这些图表直接从SDVX谱面播放器中提取,它们容易出现轻微错误。您需要更正次要错误。
只需导航到SDVX谱面保管所,找到您的图表以供参考。
常见错误
红色激光很容易出错,所以请留意。 提示:使用选择工具选择激光段&ctrl +←→切换激光结束
BT&FX笔记错误很少见但可能会发生,请留意他们。
所有图表都被修剪为第一个度量,因此可能存在这样的填充错误。 您可以偏移曲目或只是移动音符来解决此问题。 提示:使用ctrl + a选择所有音符,然后按↑↓键移动它们
重力图表
K-Shoot MANIA目前不支持超出其车道的激光笔记。 您将不得不解释模式并使其在KSM中可玩。 目标是模仿原始轨道。
处理通道效果
SDVX轨道中存在多个通道效果。不幸的是,要找出轨道包含的车道效果,您需要找到它的游戏视频。从那里,您需要绘制出视频引用的效果。
这里有一些很好的youtube频道供参考
以下是需要完成的细分: - [x] BPM变更 - [] Lane Spin - [] Lane Tilt - [] Lane Zoom
玩测试
请启动K-Shoot Mania并导航到您创建的歌曲。 这是一个简单的检查清单,以寻找: - 夹克检查(如果没有加载,请检查您的文件) - 元检查(艺术家,效应者,插画家,等级,难度) - 歌曲预览(歌曲预览是否正确?) - FX Track检查(播放歌曲并尝试丢失并击中激光或长FX笔记)    - 如果FX曲目失真/出现故障,则不会同步nofx.ogg和<diffculty> .ogg。 - 车道效应检查(检查它们是否按预期工作)
项目状态和里程碑
Extract data from SDVX 谱面播放器 and convert them into .ksh charts
使用元数据填充提取的数据
处理提取的.ksh图表
使用元数据创建剩余的SDVX歌曲图表
SDVX歌曲请求|绘制剩余的SDVX歌曲
正在进行SDVX III歌曲
特别感谢您的贡献
Kyanerg
Dessard
xheres
Subreezy
ChickenNotHD
本文使用googletrans自动翻译,仅供参考, 原文来自github.com
SDVX Charts for KShootMania
SDVX Song packages meant for use in KShootMania.
These charts follows the offical sdvx charts closely to emulate the original experience.
SDVX and SDVX II Song packages
They are completed and playable. Due to github not able to support repository above 1GB in size, SDVX and SDVX II songs are removed from the repo and archived. The song packs can be found here.
SDVX III Song packages
How to setup for playing
Empty out the directory of "kshootmania\songs"
Clone the repository directly into "kshootmania\songs"
Optional Revert your directory to its original state (This repository is configured to ignore all other songs)
Start KShootMania
Enjoy.
The repository is configured this way for easy editing and playing the charts.
Video Walkthrough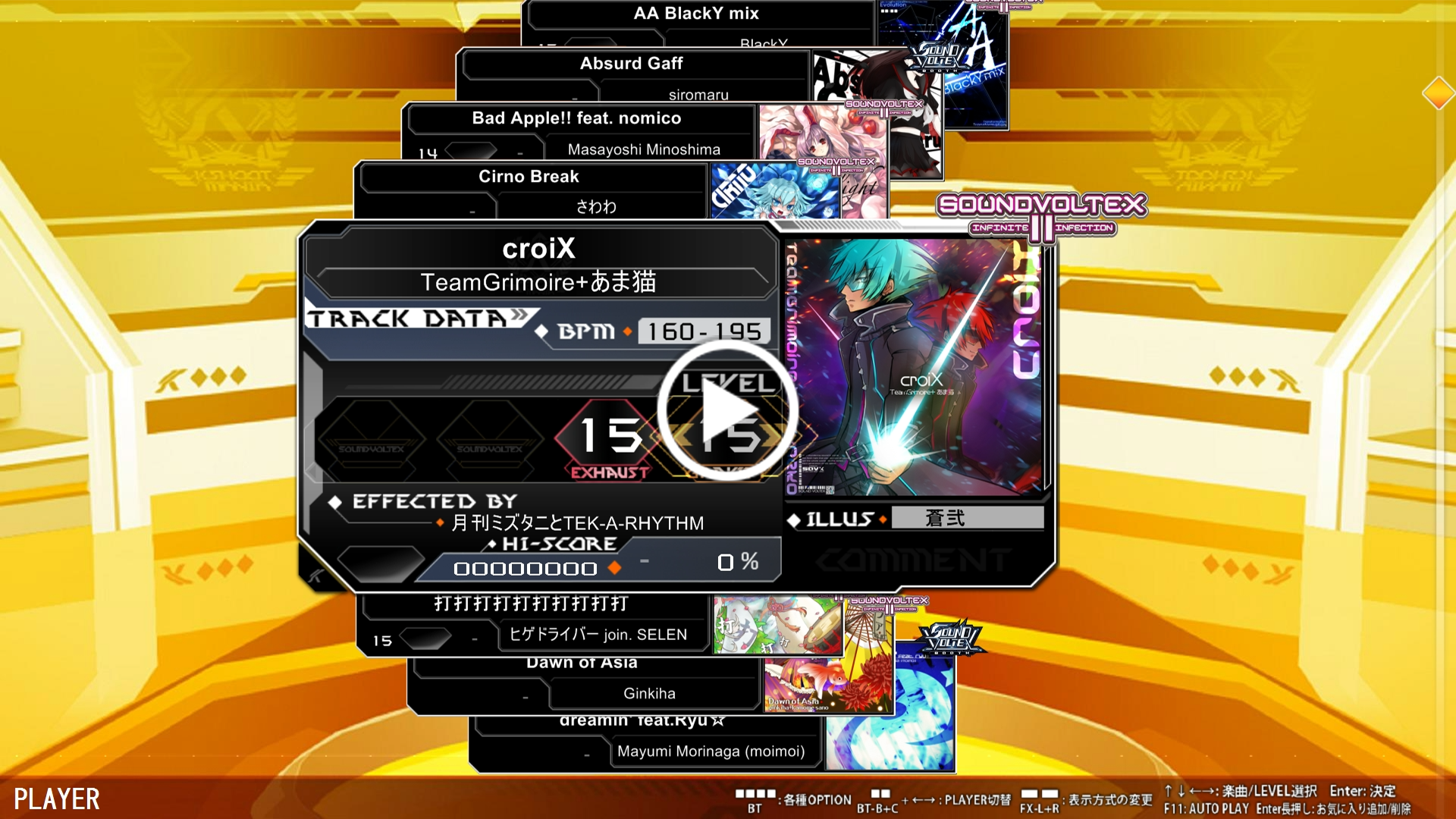 Contributing to this project (Under Edit)
This project has completed all SDVX and SDVX II charts. They have been archived and released.
This repo will now only accept SDVX III charts.
Processing the charts
Fork this repository & create a new branch
Navigate to KShootMania SDVX Song Status to check for collaborator status
Look for the song you want to process in the spreadsheet

Set the relevant cell to "In Progress" if you are working on it
To prevent conflicts, work only on songs that are not marked "In Progress"

Navigate to \incompleteChart and find the song folder you are working on
Cut & paste the whole folder into to \sdvx
Once everything is in order, save the chart and commit your changes to your fork.
Feel free to process other songs. (Repeat from step 4)
When you are ready, make a pull request!
Download & Processing the songs
Songs are downloaded from Youtube and processed. The objective here is to preserve the quality for the best experience.
Step by step guide
Navigate to SDVX譜面保管所 and find the song you are processing
Download the FX tracks and No FX tracks from the links (Youtube)

If you do not have a downloader, you can try using Clip Converter or 4k Video Downloader.
To prevent more re-encoding, download the sound as .aac or .m4a, then process them.
Disclaimer: I am not afflicated with either products. Feel free to use them as you like
Trim the tracks, offseting them if required and save them into .ogg format (Repo only takes .ogg)
Rename the FX track <diffculty>.ogg
Novice charts nov.ogg
Advanced charts adv.ogg
Exhaust charts exh.ogg
Infninite charts inf.ogg
Gravity charts grv.ogg
Rename the No FX track nofx.ogg
Place the tracks into \sdvx\<song you are processing>
And its done. (Charts are mapped to the song filenames too)
Processing song jackets
Finding song jackets is mostly a google image searching task, there isn't a real method to get them.
Here are some places you can find images for a start:
| Remy Wiki | Google Image Search | SDVX.be |
| --- | --- | --- |
| | | |
| Click the image for high res version | Search by Image works well | Use this if you can't find high res jackets |
| Not always available | Not always available | Always available |
Guidelines
Check if there is existing jacket (I've put some in)
Always use the highest res version you can find.
Take note that this repository accepts only .png and .jpg files.
For convenience, all charts are mapped to jacket.png

Convenient if your jacket is .png and all difficulty share the same art. (Just name the jacket jacket.png)

If the song has different jackets for different difficulty, name them appropriately.

Novice Chart nov_jacket.<extension>
Advanced Chart adv_jacket.<extension>
Exhaust Chart exh_jacket.<extension>
Infinite Chart inf_jacket.<extension>
Gravity Chart grv_jacket.<extension>
You will have to edit the meta of the relevant chart to accomodate this
Processing Song previews
Find the song's chorus timing and add it to song preview.
It is not necessary to have 1:1 song preview with SDVX. Find what works well and use it.
Tips for song preview timing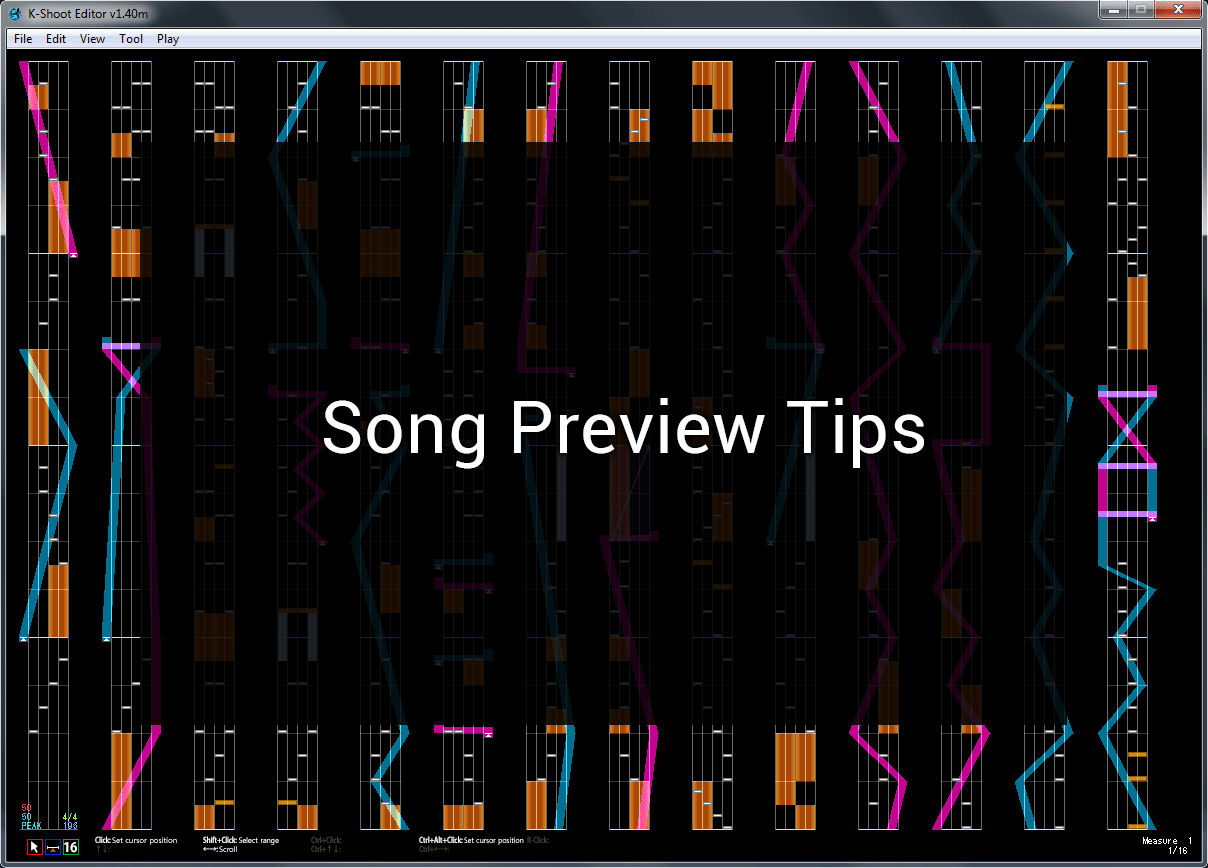 Chart proofing
The charts are directly extracted from SDVX 譜面播放器 and they are prone to minor errors. You will need to correct the minor errors.
Simply navigate to SDVX譜面保管所 and find your chart for reference.
Common errors
Red laser is quite prone to errors, so keep a look out.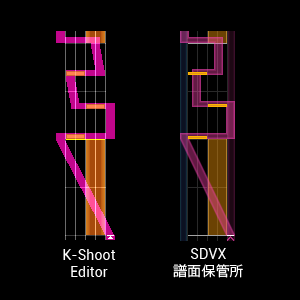 Tip: Use selection tool to select laser segment & ctrl + ← → to shift laser endings
BT & FX note errors are rare but may happen, keep a look out for them too.
All the charts are trimmed to their first measure, so there might be padding errors like this.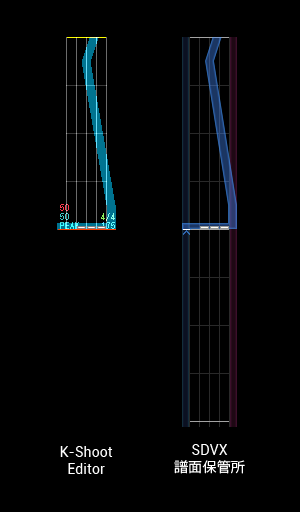 You can either offset the track or just shift the notes to fix this.
Tip: Use ctrl + a to select all notes, then ↑ ↓ keys to shift them
Gravity Charts


K-Shoot MANIA does not support laser notes going beyond their lanes at the moment.
You will have to intepret the pattern and make it playable in KSM.
The objective is to emulate the original track.
Processing Lane Effects
There are multiple lane effects in a SDVX track. Unfortunately, to find out what lane effects a track contains, you will need to find gameplay videos of it. From there, you will need to plot out the effects referencing from the video.
Here are some good youtube channels for reference
Here is a breakdown of what needs to be done:
- [x] BPM Change
- [ ] Lane Spin
- [ ] Lane Tilt
- [ ] Lane Zoom
Play test
Please start K-Shoot Mania and navigate to the song you have created.
Here is a simple check list to look out for:
- Jacket check (If it doesn't load, please check your files)
- Meta check (Artist, Effector, illustrator, Level, Diffculty)
- Song Preview (Is the song preview correct?)
- FX Track check (Play the song and try missing & hitting laser or long FX notes)
- If FX track is distorted / glitchy, your nofx.ogg and <diffculty>.ogg are not synced.
- Lane Effect check (Check if they are working as intended)
Project Status & Milestones
Extract data from SDVX 譜面播放器 and convert them into .ksh charts
Populate extracted data with meta data
Process extracted .ksh charts
Create remainder SDVX songs charts with meta data
SDVX Song requests | Plot remaining SDVX songs
In Progress SDVX III Songs
Special Thanks for contribution
Kyanern
Dessard
xheres
Subreezy
ChickenNotHD