Team-Unguided/BrightTime
语言: Java
git: https://github.com/Team-Unguided/BrightTime
A schedule based screen brightness changer
Brightime
BrightTime会根据一天中的时间调整Android屏幕的亮度。 这可以提高手机的电池寿命。 其他项目,如背光!可以更轻松地手动调整亮度设置以节省电量,但​​BrightTime可以完全自动化此过程。 您的手机将知道最佳亮度设置并为您进行调整。 默认安装适用于大多数用户,但高级用户可以彻底自定义计划。

安装
BrightTime易于使用。目前,BrightTime需要Android 5.0.2+。
从您的桌面:
单击此处并单击"开始下载"按钮。
将手机连接到计算机并打开其内部存储空间或SD卡。
找到下载的BrightTime-xx.apk文件并将其移动到您的电话目录。
在手机上找到BrightTime-xx.apk并单击它以开始安装。
单击安装,然后在以下屏幕上完成或打开。

从您的手机:
单击此处并单击"开始下载"按钮。
打开通知栏,然后单击下载的BrightTime-xx.apk文件。
单击安装,然后在以下屏幕上完成或打开。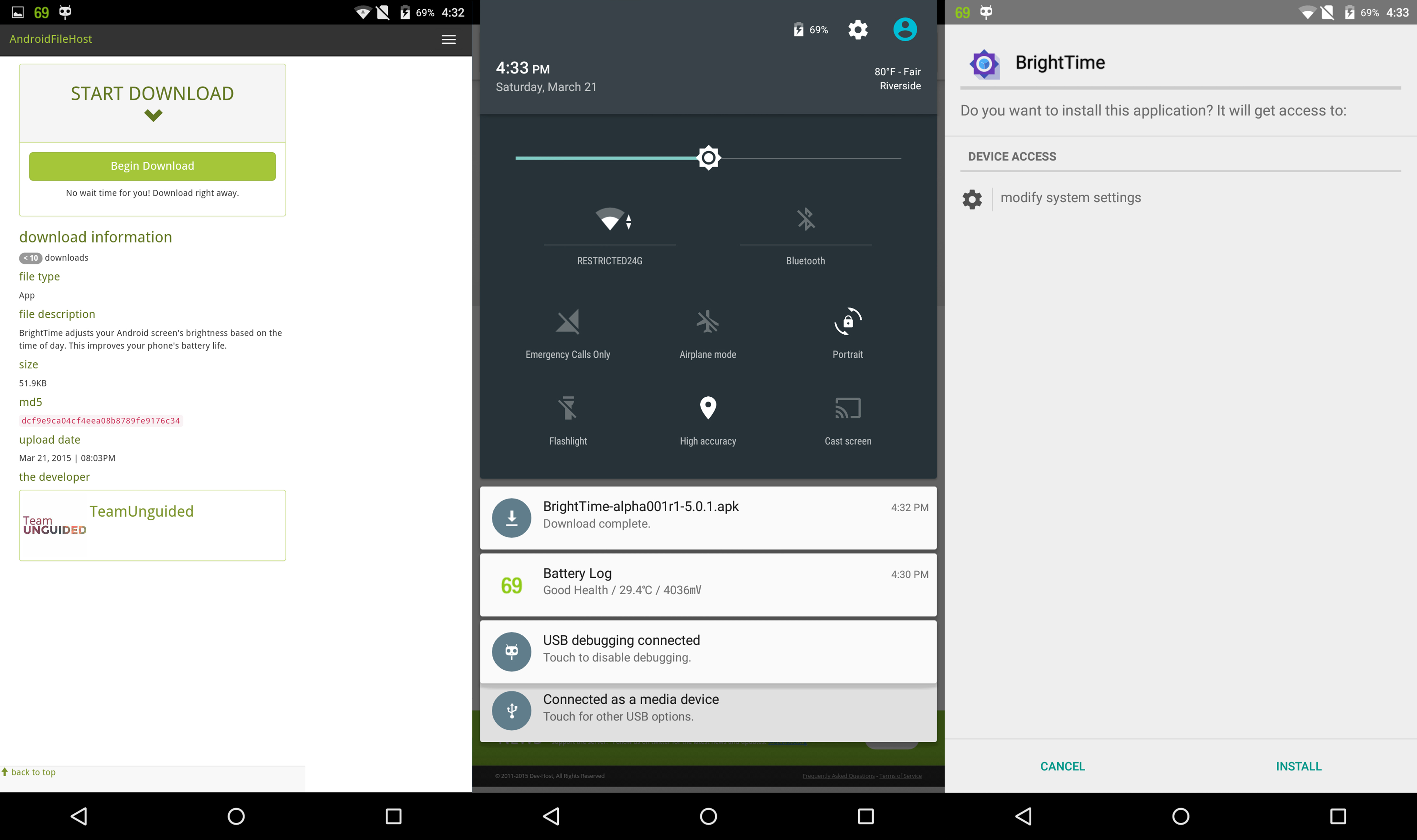 调整时间表
BrightTime提供的默认设置应该足以满足大多数用户的需求。 高级用户可以按照这些说明更改您的设置。
BrightTime使用允许用户设置亮度变化时间的点。  要创建一个点:     1.点击屏幕中央底部的+,圆形粉红色按钮。     2.选择所需的时间和亮度。     3.完成后,单击"确认"按钮。点添加!     4.您将返回主屏幕,您的添加点将按时间显示在列表中。     5.您的屏幕亮度现在将根据您设置的亮度和时间而改变。  编辑/删除一个点:     1.点击您之前创建的点。     2.使用"删除"按钮完全删除该点。     3.修改该点的任何设置,然后按"确认"保存更改。     4.要放弃并返回,请点按屏幕顶部或底部的"后退"按钮。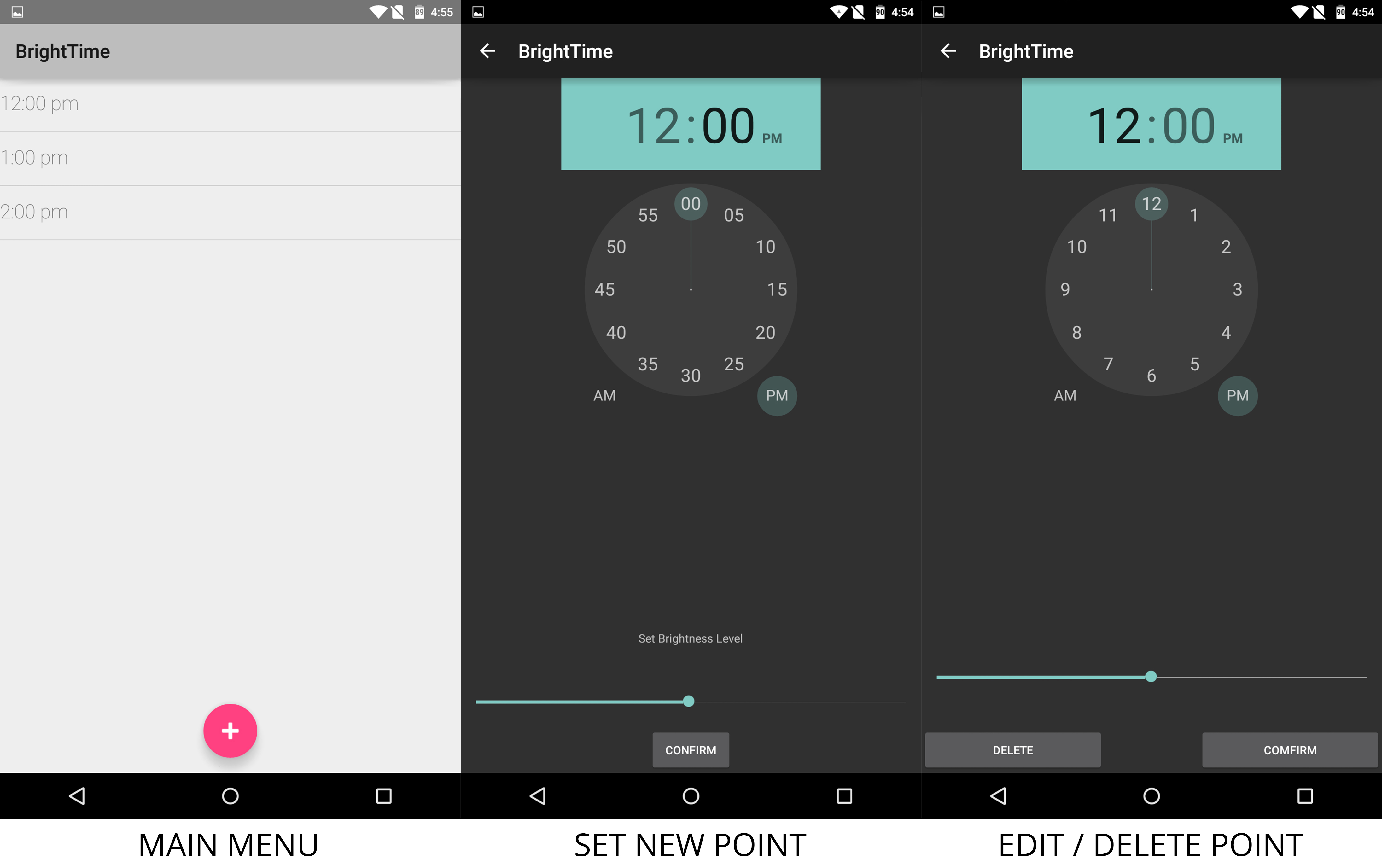 下面的简短演示:
未来目标
允许用户撤消更改或删除其点。
清理UI,图标和代码以符合Google的设计指南和代码样式指南。
支持Android Jelly Bean(4.1 - 4.3.1)和KitKat(4.4)
建设与发展
最简单的构建方法是使用Gradle安装Android Studio。安装后,您可以将项目导入Android Studio:
将项目下载到工作目录中。
打开Android Studio,单击"导入项目"
找到要导入的工作目录。
单击确定
通过Gradle自动导入和构建。
联系我们
请随时发送问题或发送电子邮件至teamunguided@gmail.com。
本文使用googletrans自动翻译,仅供参考, 原文来自github.com
BrightTime
BrightTime adjusts your Android screen's brightness based on the time of day.
This improves your phone's battery life.
Other projects like Backlight! make it easier to manually adjust your brightness settings to save power, but BrightTime completely automates this process.
Your phone will know the optimal brightness setting and adjust it for you.
The default install is suitable for most users, but advanced users can thoroughly customize the schedule.

Installation
BrightTime is easy to use. Currently, BrightTime requires Android 5.0.2+.
From your desktop:
Click here and click the Begin Download button.
Connect your phone to your computer and open its internal storage or SD card.
Locate the downloaded BrightTime-xx.apk file and move it to your phone directory.
Locate BrightTime-xx.apk on your phone and click it to begin installation.
Click Install and either Done or Open on the following screen.

From your phone:
Click here and click the Begin Download button.
Open your notification bar and click the downloaded BrightTime-xx.apk file.
Click Install and either Done or Open on the following screen.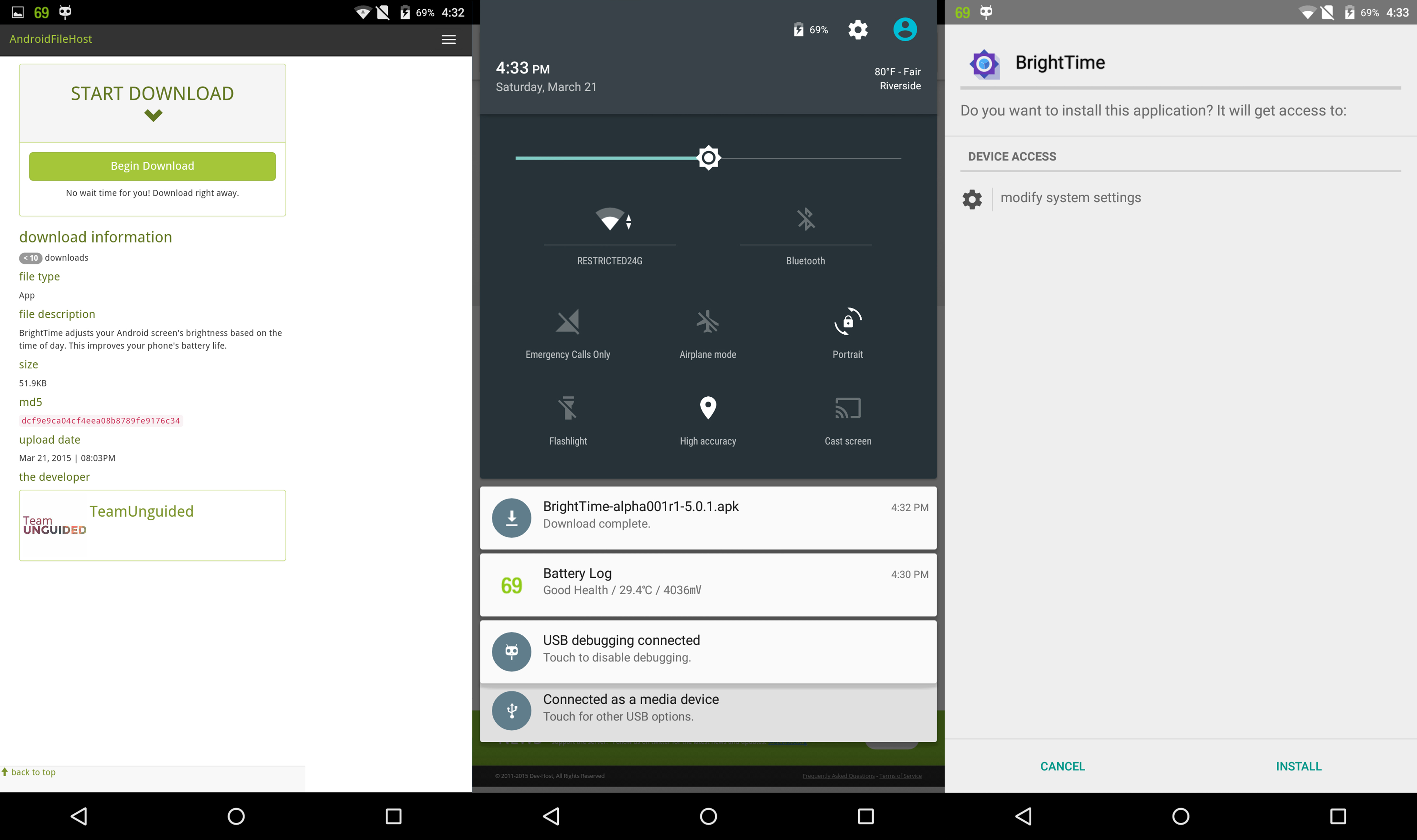 Adjusting the schedule
BrightTime comes with default settings that should be good enough for most users.
Advanced users can follow these directions to change your settings.
BrightTime uses points that allow users to set times at which the brightness changes.
To create a point:
1. Tap on the +, the circular pink button at the center bottom of the screen.
2. Select your desired time and brightness.
3. Once finished, click the Confirm button. Point added!
4. You will return to the main screen where your added point will appear on the list by time.
5. Your screen brightness will now change according to the brightness and times you have set.
To edit/delete a point:
1. Tap on the point you created previously.
2. Delete the point altogether using the Delete button.
3. Modify any settings for that point and press Confirm to save changes.
4. To discard and go back, tap your Back button at either the top or bottom of your screen.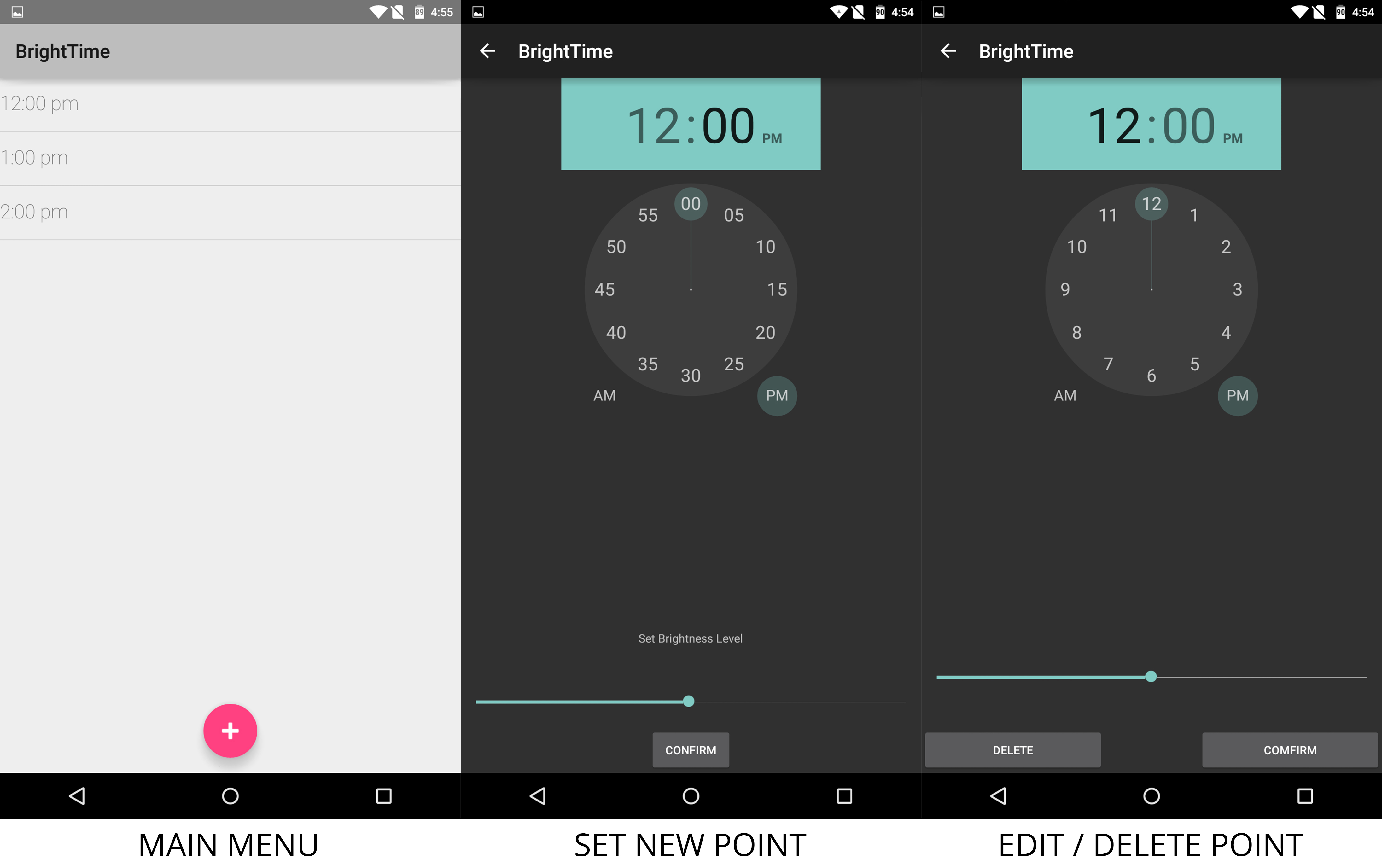 Short Demo Below:
Future Goals
Building & Developing
The easiest way to build is to install Android Studio with Gradle. After installation, you can import the project into Android Studio:
Download the project into a working directory.
Open Android Studio, click Import Project
Locate your working directory to import.
Click OK
Importing and building will be automatic via Gradle.
Contact Us
Feel free to leave an issue or email us at teamunguided@gmail.com.